copyright catastrophe —

Muse Group's intentions appear to be good—but they're paving an unpleasant road.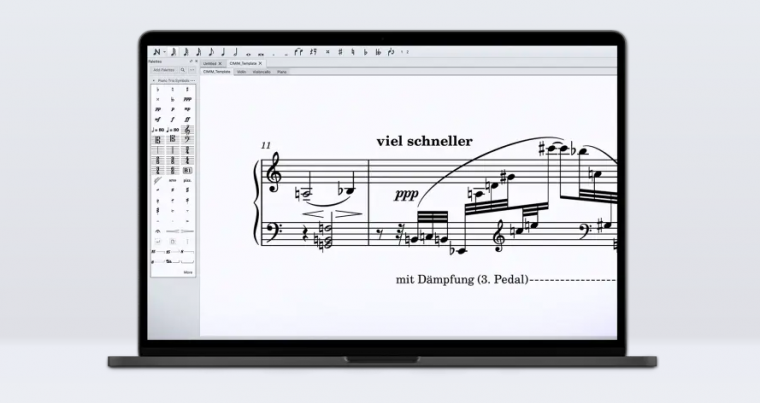 Muse Group—owner of the popular audio-editing app Audacity—is in hot water with the open source community again. This time, the controversy isn't over Audacity—it's about MuseScore, an open source application that allows musicians to create, share, and download musical scores (especially, but not only, in the form of sheet music).
The MuseScore app itself is licensed GPLv3, which gives developers the right to fork its source and modify it. One such developer, Wenzheng Tang ("Xmader" on GitHub) went considerably further than modifying the app—he also created separate apps designed to bypass MuseScore Pro subscription fees.
After thoroughly reviewing the public comments made by both sides at GitHub, Ars spoke at length with Muse Group Head of Strategy Daniel Ray—known on GitHub by the moniker "workedintheory"—to get to the bottom of the controversy.
What's MuseScore?
Before we can talk about how Muse Group got itself in trouble, we have to talk about what the MuseScore app itself is—and is not. The MuseScore application provides access to sheet music, including legitimate access to sheet music copyrighted and owned by large groups such as Disney.
It's important to note that the application itself and the sheet music to which it provides access are not the same thing, and they are not provided under the same license. The application itself is GPLv3, but the musical works it enables access to via musescore.com have a wide variety of licenses, including public domain, Creative Commons, and fully commercial.
In the case of commercial all-rights-reserved scores, Muse Group is not generally the rightsholder for the copyrighted work—Muse Group is an intermediary that has secured the rights to distribute that work via the MuseScore app.
According to Muse Group, MuseScore is the most popular application of its kind—it claims more than 200,000 musicians find scores on it every day from a repository of more than 1,000,000 publicly available scores. It also claims more than 1,000 new scores are uploaded to the service each day.
What's Muse Group's beef with Xmader?
While Xmader did, in fact, fork MuseScore, that's not the root of the controversy. Xmader forked MuseScore in November 2020 and appears to have abandoned that fork entirely; it only has six commits total—all trivial, and all made the same week that the fork was created. Xmader is also currently 21,710 commits behind the original MuseScore project repository.
Muse Group's beef with Xmader comes from two other repositories, created specifically to bypass subscription fees. Those repositories are musescore-downloader (created November 2019) and musescore-dataset (created March 2020).
Musescore-downloader describes itself succinctly: "download sheet music from musescore.com for free, no login or MuseScore Pro required." Musescore-dataset is nearly as straightforward: it declares itself "the unofficial dataset of all music sheets and users on musescore.com." In simpler terms: musescore-downloader lets you download things from musescore.com that you shouldn't be able to; musescore-dataset is those files themselves, already downloaded.
For scores that are in the public domain or that users have uploaded under Creative Commons licenses, this isn't necessarily a problem. But many of the scores are only available by arrangement between the score owner and Muse Group itself—and this has several important implications.
Just because you can access the score via the app or website doesn't mean you're free to access it anywhere, anyhow, or redistribute that score yourself. The distribution agreement between Muse Group and the rightsholder allows legitimate downloads, but only when using the site or app as intended. Those agreements do not give users carte blanche to bypass controls imposed on those downloads.
Further, those downloads can often cost the distributor real money—a free download of a score licensed to Muse Group by a commercial rightsholder (e.g., Disney) is generally not "free" to Muse Group itself. The site has to pay for the right to distribute that score—in many cases, based on the number of downloads made.
Bypassing those controls leaves Muse Group on the hook either for costs it has no way to monetize (e.g., by ads for free users) or for violating its own distribution agreements with rightsholders (by failing to properly track downloads).
What's the OSS community's beef with Muse Group?
In February 2020, MuseScore developer Max Chistyakov sent Xmader a takedown request—which Xmader republished as an issue on GitHub—for musescore-downloader. He declared that Xmader "illegally use[s] our private API with licensed music content." Chistyakov goes on to state that much of the content in question is licensed to Muse Group by major publishers like EMI and Sony and that Xmader's downloader violates those rightsholders' rights.
Chistyakov then threatens that, if the repositories in question are not closed, he will have to "transfer information about you to our lawyers who will cooperate with Github.com and Chinese government to physically find you and stop the illegal use of licensed content." (This cryptic reference to the Chinese government will come up again later.)
In June 2020, MuseScore's Daniel Ray (aka workedintheory) responded to the GitHub issue "to see if we may be able to resolve this situation without need for further processes." Ray discussed legal issues of copyright and distribution with Xmader and various Github users for several months. For the most part, those discussions were devoid of acrimony. In October 2020, Ray declared that he "gave ample time for response, but now must proceed with requesting takedown from GitHub."
Unfortunately, this proved less simple than Ray imagined—while musescore-downloader facilitates unlicensed downloads of DMCA-protected works, it does not itself contain those works, which means GitHub itself can ignore DMCA takedown requests. This stalled takedown efforts at Github, and in the months-long absence of continued feedback from Muse Group, commenters on the GitHub thread declared themselves victorious, and the thread languished untouched from December 2020 to May 2021.
The dormant controversy returns
In May 2021, interest in the GitHub issue returned, possibly due to cross-referencing by GitHub user "marcan" from the telemetry pull request on the Audacity repository (that repository is also owned by Muse Group). In June, the musescore-downloader extension for Google Chrome was removed from the Chrome Web Store due to a trademark claim, and in July, freelance journalist Arki J. Kirwin-Muller (aka "kirwinia") requested permission of all involved to quote their Github posts.
Kirwin-Muller's request brought Ray out of the woodwork again to offer further explanation of Muse Group's side of the controversy. Ray states that musescore-downloader and musescore-dataset violate US Code Title 17, which regulates copyright enforcement in the US, linking directly to § 1201 (circumvention of copyright protection systems) and, more seriously, § 506 (criminal offenses).
Ray goes on to state that he has "hesitated" (for